Motor Control Center (MCC Panels)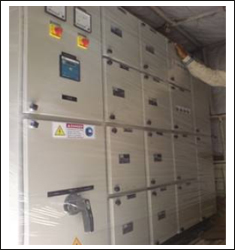 The Motor Control Center is a compartmental type with internal separation)

•

The Motor Control Center is type tested.
• The Motor Control Center is a free standing design that is available only for indoor
application; the degree of protection.
•

The Motor Control Center is subdivided in three functional compartments. The Busbar compartment, where the main horizontal and vertical busbar are located. The Equipment compartment, And the Cable compartment, where the termination is located which is design for fast and comfortable cabling.
•

The modules are of draw-out or fixed versions. The maximum rating for draw-out version is up to 225A. For higher rating of motors, fixed version will be used.
•

Module of the same size is interchangeable. Quick servicing and replacement of components mounted in the modules during maintenance.
•

A various type of starter can be housed in the Motor Control Center: Direct-On-Line starter, Forward-Reverse starter, Wye-Delta starter, Autotransformer starter, Soft Start Unit and Variable Frequency Drive.
•

The operating handle of the main isolating device on the front of the module are with interlocking. Control and indication components of the respective module are mounted on the front cover.
•

The MCC also provides high standards of human safety by shrouding the live parts and preventing accidental contacts.
•

It is accessible either for front or rear connection. And the cable entry can be from bottom or from top. Removable gland plate is provided for the cable entry. Aluminum gland plate can be provided upon request for easier installation of cable gland and to provide corrosion resistance even after punching at the site.
•

Busbars are of tin-plated copper. Silver plated copper and Busbars with PVC sleeves can also be provided upon request. Main busbar are accessible from the front. Main and vertical busbars are fully shrouded to prevent accidental contacts.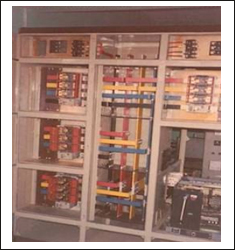 •

Manufactured out of Electro galvanized sheet steel with all the external covers and doors are polyester powder coated with a variety of selection for the paint shade such as RAL 7035, RAL 7032, RAL 7033 and ANSI 61, other shades can be provided upon request.
•

Factory routine test is conducted on each MCC that is carefully inspected by QC engineer for the structure and electrical compliance with the specifications and standards.
•

The MCC can be interface with the DCS system for monitoring and controlling the starters. It can also be interface with programmable logic controller (PLC) for the automatic operation.
| | | |
| --- | --- | --- |
| | -: Required Sales & Marketing Engineer :- | |